Read the story about a patient who had been hospitalized every 2 months due to infectious complications, and possible treatment had been limited because of bacterial resistance and drug allergies. General skincare was also severely limited because most cream bases also caused allergic reactions.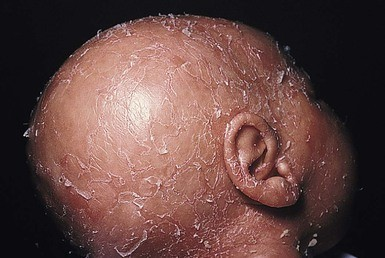 a child with Netherton disease
This patient's case is a clear example of how
bacteriophage therapy
can be an effective treatment for controlling chronic infection in a patient with a genetic disease that has a predisposition toward infection. This is the first documented case of phage therapy in NS. Phage was applied externally in both liquid and cream forms and as an oral treatment, initially using two preparations, Pyobacteriophage and 
Staphylococcus
 bacteriophage. Over the first course of phage therapy, the patient's condition significantly improved, indicating that periodic treatments with phage will be a viable alternative for infection control. Reports about immune system response to phage after prolonged use are a potential concern, as this patient will require prolonged periodic treatment, although recent studies show that this may not actually present a significant problem with therapeutic dosing. Another potential challenge is the possibility of changes in bacterial phage sensitivity. After a 1-month treatment course of external and internal phage use, the sensitivity profile did not change. After 3 months' treatment, resistance developed to one of the phage preparations used. If resistance is observed, it can usually be overcome by substituting another preparation, as was done here, or the development of individual phage preparations made on a custom basis.
The potential of bacteriophage application is outshining in a lot of ways.
(Visited 65 times, 1 visits today)